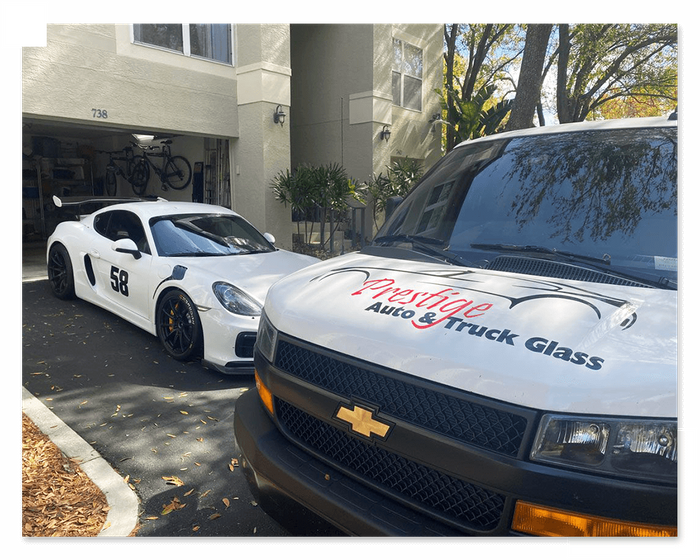 Windshield Repair in Tampa FL
If you notice the slightest chip or even a small crack on your windshield, you should call an auto glass repair service right away. At Prestige Auto & Truck Glass, we offer windshield repair for all of Tampa. We can fix any imperfections and quell your worries quickly before these defects evolve into a larger issue. Instead of risking your safety, trust Prestige Auto & Truck Glass to take care of your concerns. We are the go-to option!
Windshield Repair At Your Door – Tampa
Looking to get the job done fast while maintaining high-quality standards? Prestige is your best bet.
If your windshield has suffered minor to moderate damage and you don't want to drive to an auto glass repair shop, we offer mobile windshield repair services for Tampa. You can wait at your current location and let the best windshield repair services in the area come right to you. You can schedule your repair at the perfect time with our convenient availability. We even offer same-day service.
Cracks or chips in your windshield may worsen; if this happens, it might need to be entirely replaced. Don't waste a second - contact our windshield repair service to solve the issue today!
We Don't Settle for Less. Neither Should You.
We have over 22 years of experience with our factory-trained and certified technician team.
We want to take a load off your shoulders when repairing such a critical component of your vehicle. Whatever make and model you own, we always maintain the highest standards while working on your auto glass situation. Each time you work with us, an expert will be right at your door to guarantee the best results.
With Prestige Auto & Truck Glass, you have the advantage of working with a locally owned and operated company. We pay the closest attention to detail. Hire our windshield repair services in Tampa today!
You can count on our mobile and same-day services
A damaged windshield is an uncomfortable and dangerous inconvenience that requires immediate action. We offer windshield repair services where our experts will come to your work, home, or any other location to repair your windshield. For smaller chips and dents, you can expect to be on the road in no time!
Did an accident damage or break your windshield?